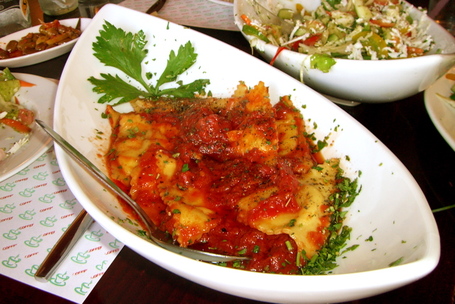 Delicious ravioli at "Jovani" TIberias, Israel
We're on our way from Jerusalem up to Vered Hagalil. No GPS, but this looks easy on the map. We just need to pass through Tiberias, stay on the same road headed north around the Sea of Galilee (Kinerret), and we should be there in half an hour. Pretty much follow the coast. Hmm, the road is turning inland. We must have missed the turn. Let's try again. Hmm, no obvious main road headed up the coast. All these side streets dead end. Maybe the turn was earlier. Argh! Three tries later we are punchy and very hungry and worried about a nap for Mini-Me.
Tiberias is one of those resort towns that I would normally avoid, especially for eating. But since we are desperate, we just park the car and pick the first place that looks half decent and hope they can give us directions along with lunch. The sign in English said "Jovani" and "Espresso Bar", but in Hebrew it is something closer to "Giovanni".
Boy were we glad we got lost! I'd been avoiding ordering pasta since we were headed shortly to Italy, but I broke down here. The ravioli in the picture above was simple but stellar, with a homemade tomato sauce that was practically vibrating with fresh flavors. We all shared that along with huge, beautiful Greek and Israeli salads.
And thus my continued amazement with food in this tiny country. Nothing fancy – in fact, ultra casual. The owner's daughter is chilling with her friends at the next table and the tab was maybe $40 for the four of us. It is just that the ingredients are insanely fresh and flavorful, and prepared with simple care, an experience that seems so infrequent in the US but the norm here. Like most Israeli restaurants (either kosher-dairy or non-kosher), it is a vegetarian paradise with lots of options and no stealth meat.
And the owner, who spoke excellent English, gave us directions too. We simply needed to follow that road that was headed inland for 7 Km, and it would head north again, have faith. Mmm. Not… so… much. We ended up making a huge box, going an hour out of our way and swearing that after we got settled we'd have to drive back south and figure out where the road really was just to satisfy our curiosity!
So I can't give you exact directions to Jovani, but if you enter town from the south it is one block left of the main street, in what seems to be the older downtown area filled with normal shops. I can't find anything about it on the web, though maybe someone who does Hebrew on their keyboard can track it down for us and add a comment? I've included a picture of the exterior below, and I'm sure a local could point you to it easily.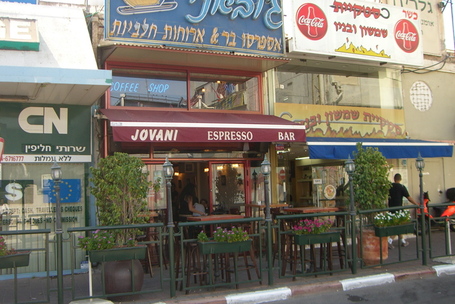 "Jovani" Restaurant in Tiberias, Israel