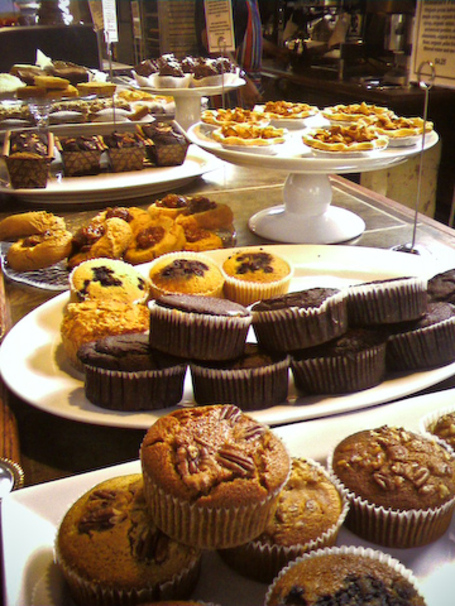 Sorry for the poor picture quality today, all I had was my cell phone when I wandered in to the new Flying Apron Bakery in Seattle's Fremont neighborhood with a few minutes to kill before a doctor's appointment. My eyes lit up to see a happy looking bakery in the spot where a tasty but doomed crepe restaurant had hung around for a few years. Turns out Flying Apron has been around for years, but has recently closed two old locations and consolidated all operations over to Fremont.
I was midway into a maple-pecan muffin before I read the sign that told me that everything here is vegan, gluten free, and wheat free. I was pondering a familiar but just off the tip-of-my-tongue (no pun intended) flavor, which turned out to be chickpea flour. It is a common ingredient in Indian sweets, with a somewhat peanuty character that I really enjoy. It made good sense in this quite tasty and very moist muffin.
I'm a vegetarian of course, but not normally a huge fan of vegan sweets. I have to say though, I've had some impressive ones lately including the German Chocolate cake at Cafe Flora (not to mention the savory waffle). Flying Apron is doing this in style, producing treats you'd be happy to eat even if you normally love butter and wheat. Those of you with stringent food requirements will also appreciate that they clearly label each and every item with the ingredients.
I can't call this a full review since I only had one muffin, but if you are vegan or need to avoid wheat, I think this place would be well worth a trip. Please add a comment if you go and let us all know what you liked or didn't like.
Details:
Flying Apron Bakery
3510 Fremont Ave North
Seattle, WA 98103
(206) 442-1115
http://www.flyingapron.net