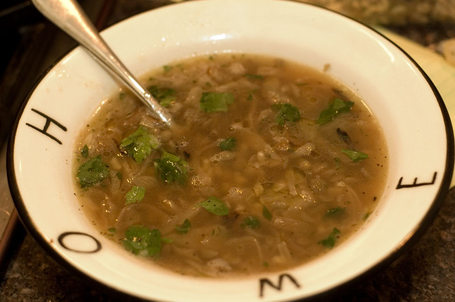 A few weeks ago I posted a recipe for Mujadara and I made it a second time only a few days later, so we had a lot of tasty rice, lentil and caramelized onion leftovers around the house. As much as I love this dish, I couldn't finish them all off. I just happened to have some leftover broth from dried shiitake mushrooms lying around, and it hit me that the two together would make a nice soup. Shiitake broth is a favorite for me because if you have the dried mushrooms in your pantry, you can have a rich stock in just 15 or 20 minutes. I use it a lot as the vegetarian base for stir-fry sauces instead of chicken broth. Here's the soup "recipe", if you can call it that! The savory flavors of the mushrooms and caramelized onions make a rich base for the lentils and rice. As simple as this sounds, it is pretty rapture inducing.
Leftover Mujadara and Shiitake Soup
Vegetarian, vegan, and gluten-free
Serves 2
2 c. leftover mujadara
2 good handfuls of dried shiitake mushrooms
parsley
extra virgin olive oil
sea salt
fresh ground pepper
Put the mushrooms in a microwave safe bowl, fill with water to cover, and microwave about 5 minutes, until they reach a boil. Or do this on the stove. Remove from heat and lest rest about 10-15 minutes, then put through a fine mesh strainer, squeezing the juice out of the mushrooms. You should have a strongly flavored broth, adjust as necessary.
Slice the tender parts of the mushrooms.
Combine the broth, mushrooms, and mujadara in a pot and bring to a simmer.
Serve, garnished with the parsley, olive oil, salt and pepper.