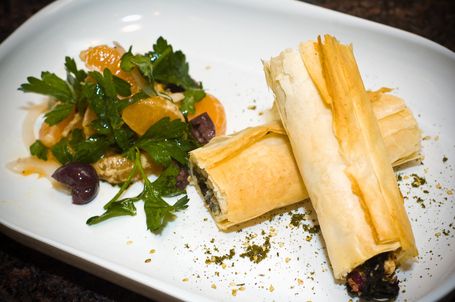 Phyllo Wrapped Feta and Chard with a Citrus and Olive Salad
One of the really cool things about working at Cafe Flora is the open menu, where any employee can propose seasonal dishes to be added to the quarterly menu, and then a manager's meeting selects the best ones. The picture above is an item I've been testing for the winter. The phyllo dough is filled with feta, swiss chard, and seasoned with Ras El Hanout, which gives it a slow warming burn along with complex sweet spices. The salad is simply mandarin orange, pickled onions, blood olives, and parsley with a citrus rosemary dressing, and I've got some Zatar on the plate for a little extra color and flavor. I took it in for an initial tasting by the folks in the kitchen yesterday and I think it went over well.
This was kind of fun for me because for some reason I've never used phyllo (aka filo) dough before. I don't know why not. I think the recipes always sounded a little fussy, like it was going to fall apart and you had to be so careful to keep it covered and so on. Not so, it was actually very easy and forgiving. If it crumbles a little, you just kind of roll around it and no worries!