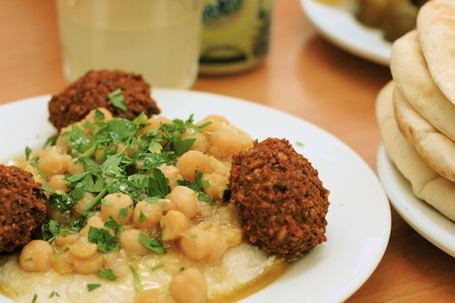 Hummus with Chickpeas and Falafel at Taami in Jerusalem
One of my very favorite days on our recent trip to Israel was the day that Sarina and I had stupendous hummus for a late breakfast and equally astounding hummus for lunch. In the morning we visited the Temple Mount in the Old City of Jerusalem and walked around the outside the Dome of The Rock and Al-Aksa mosque, then walked out through the Muslim quarter. Right by the fifth station of the cross we found Abu Shukri, and though it was a bit early we weren't about to miss this legendary experience. We weren't disappointed. You can see in the bottom picture, incredibly creamy chickpea puree topped with a few whole chickpeas and a puddle of fruity olive oil. The garnish tray included pickles and a few balls of falafel.
Then after a tour of the Israel Museum and a flustered circle through mad traffic with a sleepy toddler and an expensive parking ticket, we made our way to Taami, which Hillel had told me about. We waited a few minutes for a seat in the tiny place at the top of Shamai street and once again stuffed ourselves silly, stopping only to top each other with adjectival glee.
Those of you only familiar with hummus (which can also be spelled humus or hummous) outside of the Middle East are probably thinking: (1) a whole restaurant devoted mainly to hummus? (2) even if so, why would anyone care? Answers: (a) yep, all over, and everyone has their favorite place (b) because most of the hummus in the rest of the world would be better suited to mortaring bricks or caulking bathroom fixtures than eating. The real thing is a velvety smooth, silky puree of chickpeas, sesame tahini, lemon juice, garlic and salt. Certainly not Thai Pepper Hummus or any other absurd flavor. You can often have it garnished with more chickpeas, falafel, pine nuts, tomatoes, or other tasty bits, and there is usually a side tray of pickles and olives, but the main event is that puree.
When I was in Delhi a few years ago, I was struck by the fact that the top-shelf Bukhara restaurant at the Maurya Sheraton was known far and wide for their dal, basically a simple lentil soup. (It was damn good, with a lot of kidney beans and ultra buttery.) I was seated about 10 feet from Rahul Gandhi, considered likely to be a future Prime Minister of India. In America, a restaurant that caters routinely to future presidents isn't going to be famous for lentil soup, or chickpea puree. It made me feel proud as a vegetarian to see folks so passionate about humble, delicious dishes.
One thing is for sure, if you want to get an Israeli talking, just ask them where to find a good hummus restaurant.
As far as these two places go, I think you should visit both. I'd give a slight edge to Abu Shukri for the hummus itself, but I liked the lively atmosphere at Taami more (of course we were there at a better time of day).
If I ever manage to make hummus this good at home, I'll definitely pass on the recipe to all of you. My first attempt was a bit too grainy. Current theory is that I need to find true Middle Eastern chickpeas instead of Mexican garbanzos. There are so many recipes on the web and in cookbooks it is a bit mind boggling to know where to start. Feel free to add comments below if you have an opinion!
Details:
Taami
3 Shamai St
Jerusalem 94631 Israel
+972 2 561 9265
Abu Shukri
63 Al Wad Rd. at Via Dolorosa
Old City, Jerusalem, Israel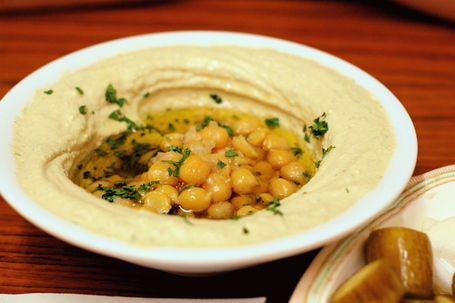 Hummus with Chickpeas at Abu Shukri in the Old City of Jerusalem