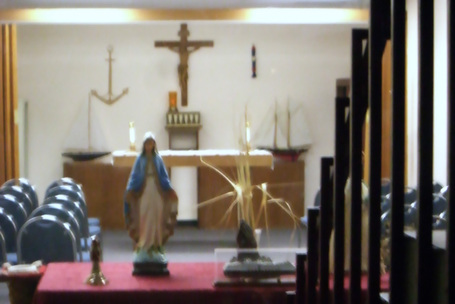 Catholic Seaman's Club, Seattle, WA
Saturday night. A rare date night, even rarer now that I'm working some restaurant hours. Normally we would plan a dinner someplace nice, but we know we have our first trip to the Herb Farm coming up soon, and it seemed unnecessary to be too specific. Instead we decided to catch a bus to Belltown and just see what caught our eye.
Stop #1 – Lola – Tom Douglas' Greek venture in Hotel Andra is one of our favorites, often for brunch. This time I tried one of their several ouzos and we had an appetizer that was uncannily similar to the phyllo wrapped feta and citrus salad I made the other day. Their version had a creamier, non-spicy filling and an arugula and grape salad, and was served with a thyme and honey oil, so the flavors were different but it was plated so similarly it was a bit freaky. We also had their incredibly smooth and garlicky tzatziki which is served with just-baked pita. Like all of Douglas' ventures, Lola is reliable and stylishly excellent.
Stop #2 – So we are walking down 2nd Ave. and out of the blue, there is my friend from Adobe, Kevin, walking his Bijan Frise. No, that isn't a type of lettuce, it is a dog, smarty pants. Turns out he lives in Belltown, and he recommended Local Vine, which is a very stylish and modern wine bar owned partially by Jason Wilson of Crush fame and one of Food and Wine's Best New Chefs of 2006. Definitely very hip. You can order a glass anywhere from around $8 up to something like $2000 for the 2003 Screaming Eagle. Sure. I'll probably settle for some Whimpering Crow but whatever. One fine thing is that you can taste before you commit to a glass. I had a nice Bordeaux and Sarina had a glass of bubbly. We shared the truffled popcorn and speculated about the rather odd customer a few tables away in his all-white cult clothes. I was probably raised by wolves, but I didn't know about the cool trick with the champagne flutes that are etched so that all the bubbles emanate in a tight funnel in the center of the glass. Whoa dude.
Interlude – After watching the baker at Macrina ice a cake, we were peering in the window at the Catholic Seaman's Club (pictured above), a haven for sailors on shore leave and a landmark in Belltown that is a throwback to an era in Seattle's maritime past. We chatted for a few minutes with a gentleman who turns out to be none other than Father Haycock. He told us sadly of how leaves are often only a few hours now, and many of the sailors don't have visas that allow them to safely wander the streets anyhow. Yet another consequence of 9-11.
Stop #3 – When I first started visiting Seattle regularly as a telecommuter for Adobe, like 8 years ago, I'd stay at Hotel Monaco. For some reason Sazerac seemed really cool to me then. Anyhow Sarina mentioned it for some reason, and it brought back memories of their hush puppies so I insisted we cab down there. Man, the 80's called and they want their giant thumbtack wall sculpture back. No more hushpuppies. I had a classic Sazerac cocktail, which turns out to be sweeter than my preferred beverage style. The appetizer pizza was good, but I think this place is kind of due for a makeover.
Stop #4 – At this point we just wanted a quick dessert before grabbing a cab back to the homestead. Wild Ginger was in sight and I was too addled to think harder, though 611 Supreme sounded appealing too. We had a really good chocolate torte and a very moist polenta cake, which I washed down with a pear brandy from Oregon's magnificent Clear Creek Distillery. It has that intensity of an eau de vie with crystal clear pear flavors. Dang.
Wha a fun and romantic date night! We might not have hit the single most interesting four spots in walking distance, but it was a treat to do dinner and drinks as all individual plates at a pace that suited our mood, with a nice stroll in between and no plan needed upfront. And this is a very vegetarian friendly way to dine, since even the most meat-heavy restaurants tend to have a few veggie appetizers.
Details:
Lola
2000 4th Ave
Seattle, WA
(206) 441-1430
Local Vine
2520 2nd Avenue at Vine Street
Seattle, WA 98121
(206) 441-6000
Sazerac
1101 Fourth Avenue
Seattle, WA 98101
(206) 624-7755
Wild Ginger
1401 3rd Ave.
Seattle, WA 98101
(206) 623-4450