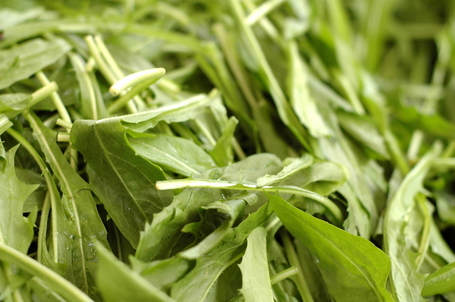 Arugula
For today's post I'm just going to let the pictures do most of the talking. Sorry for those of you on slow connections. These are all images from a morning stroll through the Campo dei Fiori market in Rome. Unfortunately we didn't have a kitchen at this point in our trip, so other than fruit, I had to eat this bounty with my Nikon!
The arugula above is used in many ways including as an uncooked pizza topping, and is much better than we normally get in the US. It is crisp and just slightly bitter. It adds a nice strong flavor component to many vegetarian dishes.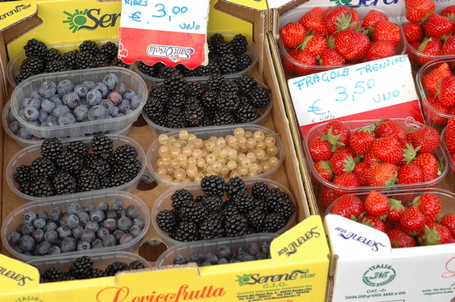 Blueberries, blackberries, white currants, and strawberries
Those strawberries were so delicate and flavorful. You could tell they weren't bred just to travel 2000 miles.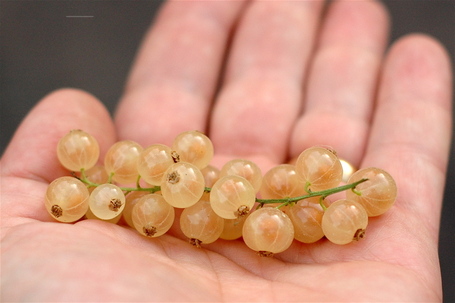 The white currants come in for their close-up
I came home with these peal-like, slightly tart white currants, and Mini-Me scarfed them all up.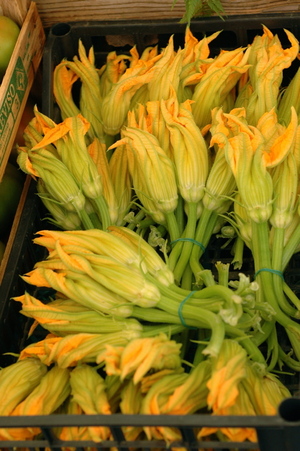 Zucchini Blossoms
Man was I jealous of the zucchini blossoms that Italian cooks get. Even at farmer's markets in the US they usually seem like an afterthought of whoever is growing the squash, and are always terribly expensive and usually about to wither. In Rome there were huge baskets of them that looked like they were picked an hour earlier. Even average places would have whole pizzas covered with them. You could taste them more that way than you can with the typical treatment of stuffing the with cheese, battering, and deep frying.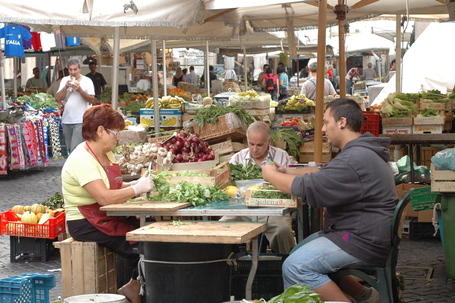 Trimming vegetables for sale
The market itself had a nice vibe, and isn't that huge. Above you can see some of the folks that work there getting watercress and green beans ready to display.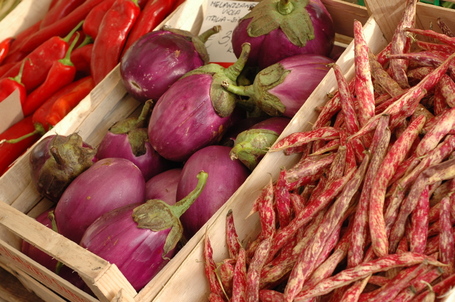 Hot Peppers, Eggplant and Borlotti Beans
The best advice for choosing many types of vegetables is to find ones that feel heavy for their size. These eggplant were like little cannonballs.
I love that we have so many great farmer's markets in Seattle (and many places in America) now. I only hope that they get more frequent and closer to home. It would be awesome to be able to cook with ingredients this fresh every day. On the plus side, most of our farmer's market produce is certified organic or at least unsprayed, while in Israel and Italy I didn't see a whole lot of labeling.
You might also want to check out Heidi's post about her favorite Roman market – turns out she was there at the same time as us!