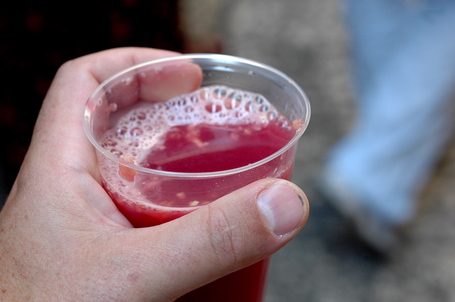 When we met our tour guide for the Old City of Jerusalem, Nurit Lessem, she was surprised to hear that we hadn't had lunch yet, but was more than happy to take us to one of her favorite falafel places for a break. I knew right away we'd found the right chaperone!
SP and I wouldn't normally go in for a guided tour, but the historical complexity of the Old City made it seem a shame to go around with our nose stuck in a  guidebook. Nurit wasn't the type of guide where you felt as if she was simply going through the same old script. She clearly has a passion for the history of Jerusalem and has learned about it from many angles. She shared her depth of knowledge everywhere we stopped and engaged with us in lots of fascinating discussion and speculation. She also knew well hidden viewpoints and out of the way nooks and crannies that we wouldn't have found ourselves. So I can highly recommend her services. You can reach her at 972-54-654-3006 or nurit_lessem@yahoo.com. She speaks fluent English, French, and of course Hebrew.
Now about that falafel. Nurit took us to the Fountain Coffee Shop, in Suq Afthemos, Dabbagha No. 62, which is right around the corner from the Church of the Holy Sepulchre. Just another incredible falafel sandwich with a few fries, pickled vegetables, and tahini. Man, eating in this country is tough!
Also on the way through the souk we stopped for a glass of fresh squeezed pomegranate juice. It was kind of phenomenal to watch the gentleman slice open and squish 5 or 6 of the fruits and squish them in a manual press, right into my glass. I guess I'm used to thinking of them as almost a luxury fruit, so it was eye opening to enjoy them this way. The flavor was nothing like the Pom brand juice in US stores. It was much lighter, and mildly sweet with little hits of the bitter pith. Awesome.