One of the things I look forward to most when touring other countries is to see the spice markets. In Delhi, my driver / guide and I braved one hour of traffic to go about 1.5 Km from where we were to Khari Baoli market and then we had to park in an underground garage that was so crowded that the attendants had to move cars around like a puzzle to fit each new one in!
By comparison the spice stalls at Mahane Yehuda market in Jerusalem are pretty laid back, just the usual shoving and good natured shouting. I only bought a couple of things, some super-fresh green zatar (above) that tastes most strongly of thyme and sesame, and incredible dry harissa: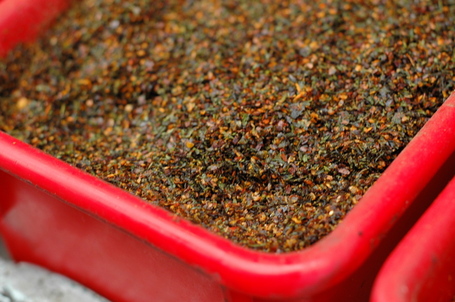 I've only been familiar with harissa in the sauce form, but we are pretty sure that is what the man called it. I don't know if it is intended to be soaked to make a harissa sauce or used as a rub or garnish, but in any case it is delicious. It is quite hot and has an intense flavor of roasted dry chilis, with strong herbal undertones, and very beautiful to look at. If anyone can correct me on the name of this mixture or its uses, please add a comment!