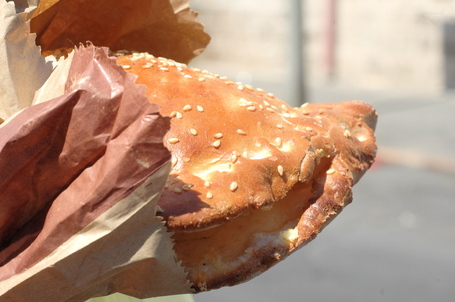 Sambusac Stuffed with Potato, Mushroom, Cheese and Hardboiled Egg
Here are your directions. (1) Board plane for Tel Aviv (2) Clear immigration and customs (3) Ask taxi driver to take you to Abulafia. You could tell him that it is in Jaffa, but he already knows.
SP's dad, you mention anything related to the Middle East and his eyes glaze over with desire as he tells you about how you have to make it to Abulafia.
Do you get what I'm trying to say here? This 24-hour streetside bakery has been located at the same corner in Jaffa since 1879. They pretty well have the recipes tweaked out at this point. That turnover, calzone looking item you see above is called a sambusac, and this one was filled with silky smooth mashed potatoes, onions, mushrooms, and cheese. Big deal right? When you order it, they put it on the grill for a minute, then cut it open and add a sliced hardboiled egg. The warm, creamy potatoes, the rich egg and cheese, slightly chewy but tender dough, lots of black pepper. Dang! Suddenly I understand what all the other pastries I've ever eaten filled with cold, dry mashed potatoes were referring to.
Just up the street, Abulafia has another location that serves sit down meals and apparently has unbelievable hummus, according to Hillel. I didn't have room for it today.
If you are doing any more web research about the bakery, be sure and check multiple spellings. Even on their own sign they have both Abuelafia and Abouelafia, and I've also seen Aboulafia.
While you are in Jaffa, you can stroll up to beautiful overlooks of Tel Aviv and the Mediterranean, and walk through one of the nicer, cleaner Old City areas I've seen, with some high quality, not so touristy art dealers.
Just to whet your appetite further, here's a picture of Abulafia's pita with zatar, if you don't mind looking through the glass.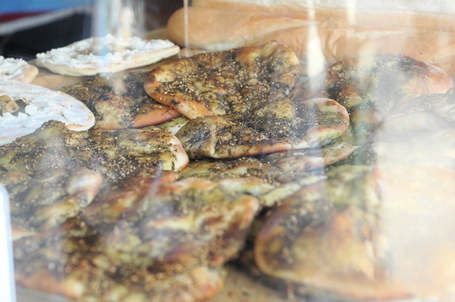 Pita Bread Covered in Zatar