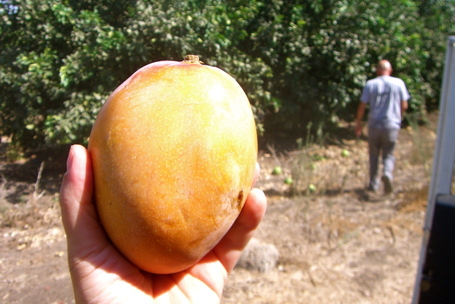 Freshly liberated mango near the Sea of Galilee
SP has just about got me convinced that these private guided tours are the way to go when in an unfamiliar place with a lot to see and limited time. Along with Mini-Me and SP's Mom, we just spent two nights at the Vered Hagalil Guest Ranch just north of the Sea of Galilee, otherwise known as Lake Kinneret. (I have to say that when I first saw the water, I said "you call that a sea? At home that wouldn't even be a Great Lake! :)".
You probably are most familiar with Sea of Galilee because it is where Jesus is said to have walked on water, and the neighboring Golan Heights because it is periodically in the news when Syria and Israel are shooting at each other. While Mini-Me had her afternoon nap, we got to see a whole different side of the region.
The Kinneret area is the source of much of the fresh water for Israel, and the area around it is incredibly fertile, but I wasn't expecting to write a blog entry about this tour. I thought we'd be hiking, maybe swimming, and see some ruins and great views. I never figured we'd be having an impromptu tasting of blackberries, a wild variety of mint, fennel, the fruit used to make the crown of thorns, and farmed pomelo, lemon, and by far the best mango I've ever had in my life, pictured above. Oh man, that mango (pictured above) was incredible. Not at all stringy, very large and intensely perfumed, sweet almost rich, and much more complex than any I've ever had in the states.
Our guide, Igal Volitzky, has been taking folks around this region for 20 years and really knows it cold, including the geography, the history, the plants and animals, and of course the people. In three hours we covered everything from the wet plains near the lake to the ruins of the ancient synagogue at Kanaf in upper reaches of the Golan. Igal really can handle his Range Rover, taking us up roads that I would never have dared myself. Here's the view from up there: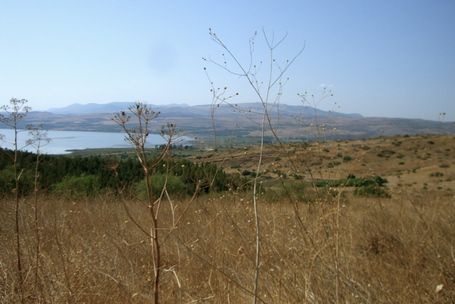 View of the Sea of Galilee (Kinneret) from the Golan Heights
When I told him of my interest in food, Igal mentioned that he can also arrange actual tasting tours, where you stop and have traditional food at the houses of several local folks. I only wish we'd had time! He didn't give me an email address, but you can call him. From the US you would dial 011-972-4-6938071. If for some reason that doesn't work, the folks at Vered Hagalil should know how to get in touch with him.
Vered Hagalil itself was also very nice. It is a rustic collection of stone cottages with extensive stables for horseback riding, a restaurant with a very nice breakfast included in your stay, swimming pool, a couple of small playgrounds, and lots of space to just relax and look down at the water, away from the tourist bustle of Tiberias, and a short drive to the holy city of Safed (also spelled Safad, Zefat, or Tzfat).