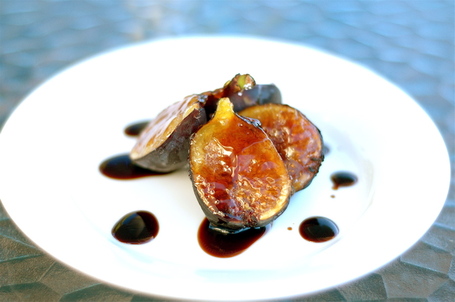 I have to make this every year when fresh figs appear. If you have a blowtorch, it takes all of 30 seconds, looks really cool, and tastes great. Also delicious served over vanilla ice cream.
Fig Brulee with Balsamic Vinegar
Serves 1 (multiply as needed)
Vegetarian, Vegan, and Gluten free
2 ripe fresh figs
2 t. white sugar
1 t. fine aged balsamic vinegar
Cut the figs in half lengthwise. Lay them skin-side down on a flameproof surface, such as a cookie sheet. Find a safe place to use your torch. Put a good mound of sugar on the cut surface of each fig, completely covering it. Use more than you think you would need because the blowtorch will blow some of it off. Turn on your torch and, working quickly, move back and forth over each fig turning the sugar into a melting dark brown syrup which will rapidly turn to "glass" when you remove the torch. You will want to experiment a bit to find the optimal distance to hold the flame. Remember that hot caramel will give you a nasty burn, so transfer them carefully to serving plates, and drizzle on some excellent balsamic vinegar.
Variations:
Serve on top of a scoop of vanilla ice cream
Serve with a few thin slices of a blue cheese or a triple-cream soft cheese