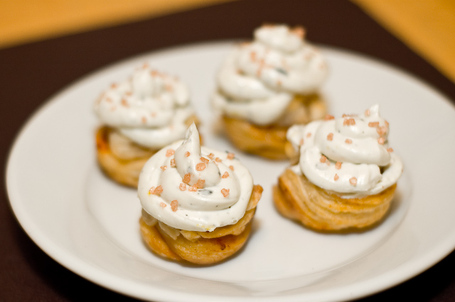 I was on my way out the door to work the other day and for some reason I said to Snacky Pants, "what would go with Blue Cheese Frosting?", and she gamely replied "pears of course". And then I was thinking of a great post (that I can't seem to find) that Dana had over at tastingmenu.com about a meal she prepared that was all sweet savories and savory sweets. I love the idea of that. Here's my first try at this concept. I used puff pastry and caramelized the pears in a skillet, making alternating layers. Then I added smoked Spanish paprika (pimenton dulce) and baked them in mini muffin tins. For the icing I mixed about 1/3 Pena Azul (a Spanish blue cheese) with 2/3 plain cream cheese and a bit of lemon juice, and topped them with a few grains of the red Hawaiian Alaea sea salt. Verdict: pretty good, not bad for a first try at a totally new area of cooking for me. Definitely fun but I think the flavors need a bit of refinement. Also I bet using phyllo instead of puff pastry would be appealing. I didn't have mini parchment cupcake wrappers, but that would add to the effect, and clearly I should take more care in piping out the frosting. I think the Pena Azul is too salt, I think I would try a Gorgonzola Dolce instead. You could serve them an appetizer with a good sherry. Here's an approximate recipe:
Caramelized Pear "Cupcakes" With Blue Cheese Frosting
Makes 6
1/2 lb. homemade or frozen all-butter puff pastry
2 ripe but still firm pears
1 T. sugar
2 t. smoked spanish pimenton de la vera (dulce) paprika
1/4 c. Pena Azul Gorgonzola dolce or other blue cheese
1/2 c. cream cheese
1 T or so lemon juice
red Hawaiian Alaea sea salt for garnish
butter
Preheat oven to 350 and butter 6 spots in a mini-muffin tin
Slice the pears about 3/16" thick, skipping the core
Find a couple circle cutters the approximate size of the top and bottom of your muffin tin. Cut 6 small and 6 larger circles of pear. You'll have lots of pear leftover to eat.
Heat a skillet on medium, add a bit of butter, and after it melts, sprinkle in the sugar. Add the pear slices and cook a few minutes on each side, til nicely caramelized.
Again with the circle cutters, cut 6 small and twelve larger circles of puff pastry.
Put a small piece of puff pastry in each muffin tin, top with a slice of pear, and add a pinch of the paprika. Repeat, and finish with a layer of pastry.
Bake about 15-17 minutes until golden brown
To make the icing, just warm both cheese in the microwave for 30 seconds or so until beatable, add the lemon juice, and go at it with a small whisk until smooth. Don't put any salt in the icing because you want to be able to garnish with it. Taste and adjust.
Cool the cupcakes, remove from muffin tins, and pipe on the icing with a pastry bag or cut the corner off a small ziplock. Top with a few grains of the red salt.