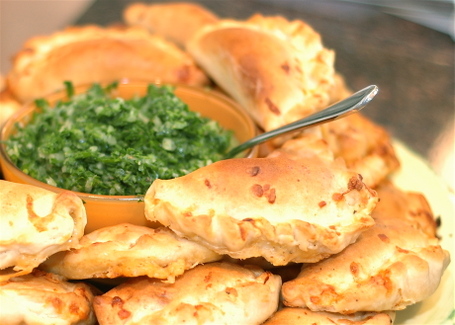 Tonight was National Night Out and I hope many of you had rockin' block parties. Ours was fun as always, with lots of munchkins on bikes, scooters, toy cars, rollerblades and strollers. Zeb the kooky dog barked at everyone and ate liverwurst training paste, and our neighborhood police sergeant put up with the usual grilling and good-naturedly took home two enormous slices of cake. My contribution was these appetizer sized, cheese filled empanadas with a quick chimichurri sauce. I wanted to do a baked, not fried version because I made them last night way too late and I couldn't really deal with a big frying mess. I guess they must have been pretty well received, the stack disappeared rapidly. You could use any cheese you want as long as it melts well. Latin American cheeses would certainly be a good choice, but you can also do a fusion version with anything that suits your fancy, and you could also add a bit of chutney or fig jam to take the flavor up a notch. I included about 20% romano to give a depth of flavor, borrowing from what I see Snacky Pants' grandmother do with her outstanding Sephardic baked goodies. Oh, and if any cheese should leak out during baking and make a crispy brown puddle on your sheet pan, that is known as a Cook's Treat.
Appetizer Cheese Empanadas with Chimichurri Sauce
Makes 3 dozen two-bite appetizers
For the dough:
5 cups flour
5 t. baking powder
1 1/2 t. salt
5 tbsp cold butter
3 eggs
1 1/4 c. whole milk
For the filling:
6 c. grated cheese (see above)
1/2 sweet white or red onion, minced
1 t. cayenne or chili powder
For the sauce:
2 bunches flat-leaf parsley
1/2 sweet white or red onion, rough chopped
4 cloves garlic, rough chopped or pressed
1/2 c. extra-virgin olive oil
juice of 2 lemons
1 t. dried (or 2 t. fresh) oregano
Preheat the oven to 425.
In a food processor or by hand, cut the butter into the dry ingredients.  Beat the milk with the eggs and add them to the dry ingredients. Working as quickly as possible, form a ball of dough. Divide the dough into 3 balls and refrigerate for at least 20 minutes, covered.
Working with one ball at a time on a lightly floured surface, either divide into twelve equal pieces and roll out into 5″ circles, or roll into a large thin sheet (just short of transparent) and use a 5″ pastry cutter to make a dozen circles, gathering the scraps to finish the job. You may have to let the dough relax a bit if it has gotten too elastic.
With a pastry brush, wet the edge around the back half of each circle. Fill each empanada with a heaping tablespoon of the cheese mixture. Fold over and press firmly to seal. You really want a good seal to minimize cheese leakage. Optionally use your thumb and forefinger to create a decorative "rope edge". To do this, hold the empanada in one hand, and starting at the end neareast you, pull out a 1/2″ "tab", and fold it back over and toward you, then work your way towards the other end. Put each completed empanada on a non-stick baking sheet (or use a silpat or parchment paper).
Brush the empanadas with a little whole milk to help the brown up with little shine, and bake for about 20 minutes, until deep golden brown. You can do this all well-ahead and refrigerate or freeze, and reheat on baking sheets for a few minutes.
For the chimichurri (and this is really a quickie version, but it tastes great), just whir all the ingredients in the food processor until you have a medium-coarse sauce, and then adjust salt, pepper and lemon juice as needed. It will taste best if it gets to marry flavors for half an hour or so.