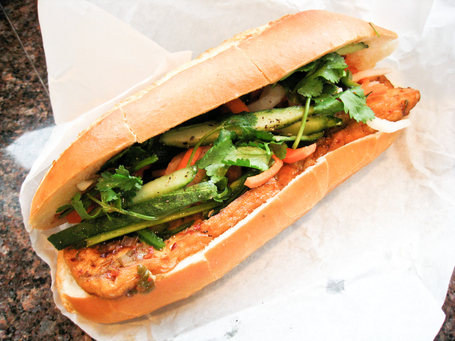 Banh Mi Chay – Vietnamese Tofu Sandwich
If you are already an afficionado of Vietnamese sandwiches, aka Banh Mi, you probably don't need to read any further. But if you haven't had them, you have been missing out on one of the all time delicious and cheap eats. My wife and I have been known to roll out of bed in the morning and say "Vietnamese sandwiches for lunch? Yep!".
A typical sandwich is on an 8 inch crusty French roll (an imperial legacy). It contains julienned cucumber, carrot and pickled daikon, cilantro, optionally slices of jalapeno, a little light mayonnaise-based dressing, lots of black pepper, and the filling of your choice. For meat eaters there is a wide variety of choices, but there is always a tofu option, Banh Mi Chay. And the best part is that this treat usually costs about $1.50, rarely more than $2.00. One sandwich is pretty filling, but at that price if you are hungry you might want to split three among two people. You generally order at a counter and wait a few minutes while they are made, which gives you time to check out the other prepared foods and grocery items to tempt you. Always on offer is fresh-made Vietnamese iced coffee with condensed milk.
So where do you find Vietnamese sandwiches? If you happen to be in the Seattle area I've listed a few places below. If not, look for a Vietnamese deli or grocery, they will either have them or know where you can get them. Most Vietnamese restaurants *don't* sell them, because they are take-out food, not a sit-down meal.
Favorite Seattle options:
Saigon Deli (picture above is from there, my favorite)
Seattle Deli
There are tons of other small shops along Jackson that also offer Banh Mi. If you have a different favorite, please add a comment! Also Baguette Box offers a slightly non-traditional but delicious version at the wildly overinflated price of $4.25 :). The nice thing is that it gives you options outside of the international district and a hip vibe.