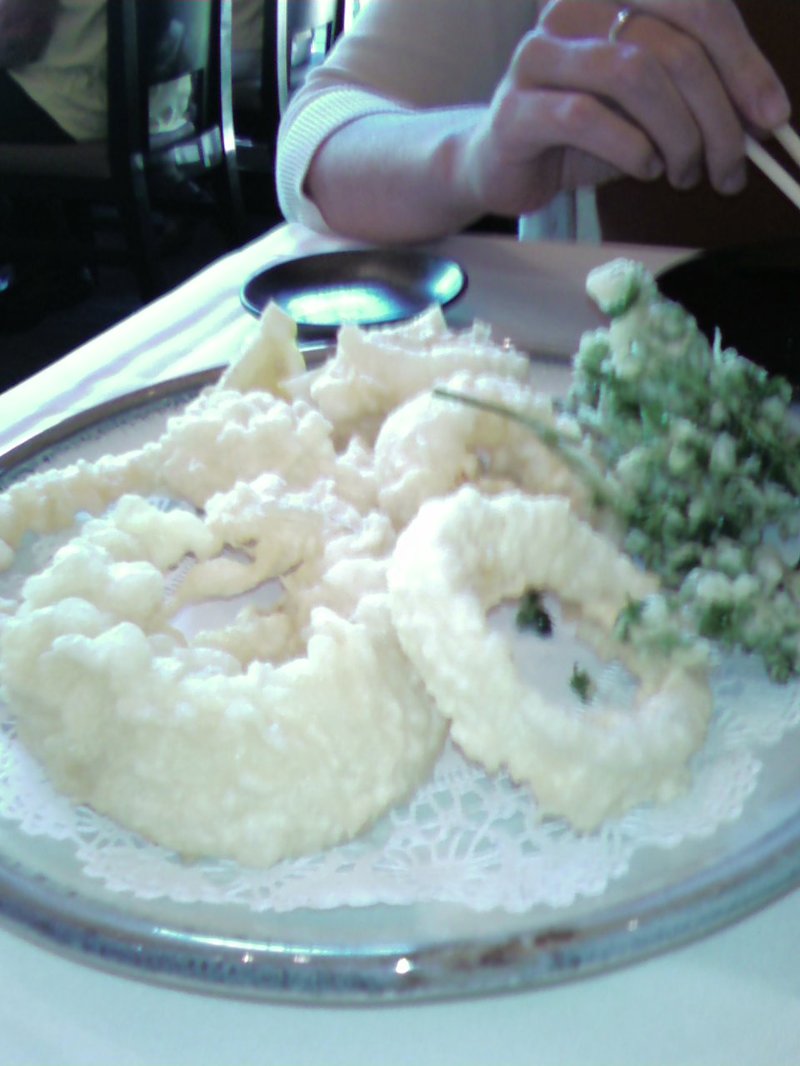 Snacky Pants and I just got back from a lovely date-night dinner at Nishino, which is our very favorite Japanese restaurant in Seattle. (My wife is still deciding what nickname she wants to go by on the blog. So for tonight it is Snacky Pants.) Located in an unassuming little shopping center next to a fitness club in Madison Valley, when you enter Nishino you find yourself in a soothing and elegant room decorated in a modern Pacific Northwest style, with sparse Japanese furnishings and stunning paintings. The service is always on point but mellow, and we immediately find ourselves relaxed, knowing that we will be well cared for.
Tonight's meal was typically excellent. We started as always with the Asparagus in Yuzu Miso. The asparagus is simply blanched and served cool in the salty / sweet / citrusy sauce with a few sesame seeds. Our second dish was a special, the Tempura Walla Walla Sweet Onions and Parsley pictured above. It was served intentionally unseasoned, so that you could sprinkle on the sea salt and togarashi chili mix to your own taste, and squeeze on a bit of lemon. This dish really sums up the restaurant's genius. The sweet onions are a Washington state specialty, the fried parsley a nod towards the legendary Herbfarm, and the lemon squeeze a reference to good ol' American fried fish. But the tempura batter and the chili salt is pure Japan, and somehow the whole comes together to create something both familiar and exciting at the same time. If I had one quibble this evening it was that the tempura could have been fried just a little darker, but it was still outstanding.
Our next course was Nasu Dengaku, broiled eggplant with a rich miso sauce and garnishes of pickled bean sprouts, red cabbage and lotus root. And then we moved on to sushi. Snacky Pants (who isn't a vegetarian) had a California Roll, and we shared an Ume Shiso maki (a classic roll of pickled plum paste and shiso leaf, otherwise known as Perilla or Beefsteak plant) and an Oshinko maki. I had a futomaki (fat roll) of egg, spinach, and shiitake mushroom that was outstanding.
For dessert we had espresso-ice cream filled mochi and a refreshing shiso sorbet (really more of a granita) which brought out the piney aspect of that herb.
Amazingly, with one premium Umenishiki sake, a bottle of San Pellegrino, tax and tip, the whole meal came to $80. While not cheap I think this is one of the outstanding deals in Seattle dining. For most dinners of comparable quality I would expect to pay more like $120.