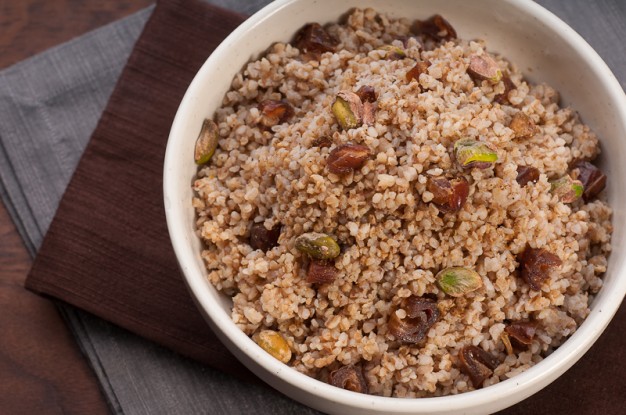 Kasha Pilaf with Dates, Pistachios and Baharat
I originally made this pilaf to stuff in cabbage rolls, inspired by this lovely post from Give Recipe. My version of the stuffed cabbage was good, but the sauce I came up with didn't knock it out of the park for me. The pilaf, on the other hand, I just loved. I made way too much of it and ended up eating it every day for three days and would have kept going if there was any left.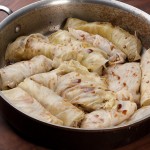 If you haven't worked with kasha before, I think you will love it's nutty, almost haunting flavor. It is simply whole grain buckwheat kernels, which are a staple food in Eastern Europe. It might seem a bit odd to use it in a pilaf with Middle Eastern or North African flavors, but there has certainly been a lot of historical migration between those areas so it isn't such a stretch. Kasha can often be found in the Jewish foods section of a grocery store. Wolff's is a common brand; choose medium or whole granulation if you have the option. Buckwheat kasha is gluten-free by the way. Although the name is confusing, it is unrelated to wheat.
If you want to go a different route, you could do this same recipe with couscous or freekeh instead. I haven't tried, but I can't see it failing to be delicious.
Baharat is one of those wonderful Middle Eastern spice blends with tremendous complexity. It is sweet, hot, floral and altogether moutwatering. I use one from World Spice Merchants. You could also make your own, or feel free to experiment with dukkah or ras el hanout as alternatives.
Kasha Pilaf with Dates, Pistachios and Baharat
Vegetarian and gluten free
Serves 4 as a side dish 
1 egg, lightly beaten
1 cup buckwheat groats (kasha) (medium grain)
1/4 teaspoon salt
2 tablespoons butter
2 cups water
1 tablespoon baharat (or ras el hanout)
Several grinds black pepper
1/4 teaspoon cayenne pepper (optional)
1/3 cup seeded and diced dates
1/3 cup shelled pistachios
Stir together the egg and kasha until the grains are coated. Place a medium saucepan over medium heat. Add the egg coated kasha and cook, stirring pretty constantly, until the grains dry out and separate, about 4 minutes.
Add the salt, butter, and water and stir. Bring to a simmer, reduce heat to low to maintain the simmer, cover and cook until all of the water is absorbed, about 12 minutes. Remove from heat, allow to cool slightly, and fluff with a fork.
Stir in the baharat, black pepper, cayenne and dates. Taste and adjust seasoning.
Just before serving, lightly toast the pistachios in dry skillet over medium heat and mix them in. (Don't do this much in advance or they will absorb moisture and lose their crunch.)
never miss a recipe
Join over 154,000 monthly readers! Subscribe to the free Herbivoracious email newsletter.