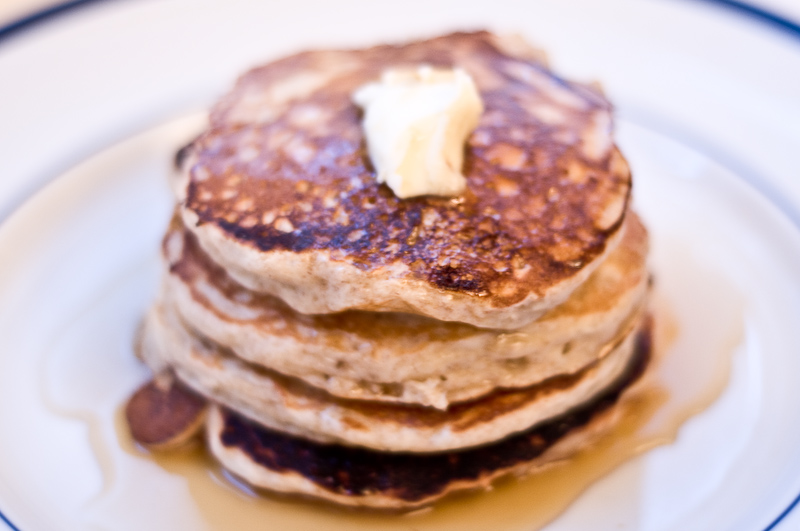 Buckwheat pancakes
Buckwheat pancakes have a place in the American imagination, but rarely at the breakfast table. When you do occasionally find them at restaurants, the percentage of buckwheat flour is so low that you can hardly taste it. Which is a shame, because the warm, toasty, nutty flavor is delicious.
Buckwheat is widely enjoyed in other cuisines, such as Russian blini, Japanese soba noodles, and Eastern European kasha. The easiest place to find buckwheat flour is at your local natural foods store, often in the bulk section.
You can easily substitute up to 50% buckwheat flour in any pancake recipe and it will be fine but possibly a little flat-stanleyish
. I counteract that tendency with buttermilk, which adds a lot of leavening power. Pancake batter should be fairly thick so that it has time to rise instead of spread when poured on the griddle.
My three-year-old and I make these a lot, using a recipe adapted from Joy of Cooking. Pancakes are a great way to introduce children to cooking because you can do the mixing in bowls on the floor, they are ready to eat in minutes, and most kids love them. Making them from scratch teaches your munchkins the value of home-cooked instead of pre-packaged foods, and it gives you the opportunity to make them from healthier ingredients. When we don't make buckwheat, we'll use a mixture of half whole-wheat pastry flour and half unbleached white flour, which is also delicious.
Buckwheat Buttermilk Pancakes
Makes about 12 moderate-sized cakes
Vegetarian; not vegan or gluten-free
3/4 cup buckwheat flour
3/4 cup unbleached white all-purpose flour
3 tablespoons sugar
1.5 teaspoons baking powder
1/2 teaspoon baking soda
1/2 teaspoon salt
1.5 cups buttermilk
3 tablespoons unsalted butter, melted
2 eggs
Whisk together the dry ingredients in one bowl.
Whisk together the wet ingredients in a second bowl. You can save a bit of cleanup by melting the butter in this bowl in the microwave, then stirring in the buttermilk and eggs.
Stir the wet ingredients into the dry. Be sure not to overmix, or your pancakes will come out tough. It is ok if they have some lumps. If it is too thick, add a bit more buttermilk or milk, but keep it on the thick side. If it is too thin, add a bit more of either flour.
Cook in the usual way. In case you are from Mars: heat a griddle over a medium high flame. Rub it with a bit of oil on a paper towel. Ladle out pancake batter to about 5" circles. Allow to cook until bubbles form on top and peek underneath reveals a nice dark brown. Flip and cook until the other side is done.
Serve forth with plenty of soft butter and real maple syrup.