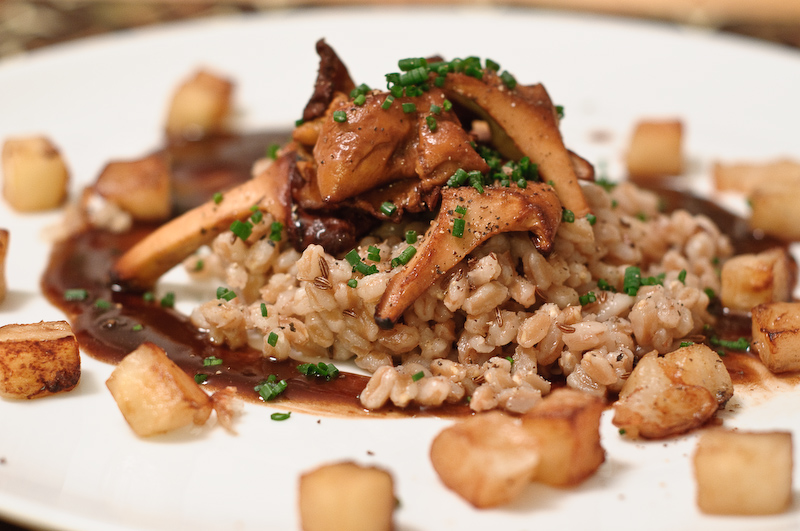 Farro, chanterelles, and King apples
Chanterelle mushrooms are one of those magical ingredients which speak of fall, like asparagus in spring, or tomatoes in late summer. Sauteed, they pack a ton of flavor and there really is no substitute. My friend Will recently gave me a few beautiful King apples from his tree, and immediately I wanted to use them with chanterelles.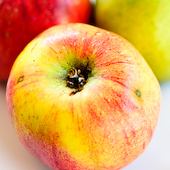 I made two different preparations of these ingredients combined with farro, whose nuttiness complements the fruit and mushrooms. Today's version is a hot entree, with the mushrooms sauteed in Calvados, and an artisanal apple "balsamic" vinegar emulsified with butter (like a beurre blanc technique but most definitely not blanc). Toasted caraway seeds in the farro add another autumnal flavor. I saute all of the ingredients in the same pan, and then build the sauce there as well, to maximize melding of the flavors.
If someone wants to try and make a substitute for the apple balsamic, I'd be interested to hear how it turns out. My guess is you would want to reduce some good apple juice along with cider vinegar and sugar and maybe apple butter. I'm sure it wouldn't be the same as the real deal, but I realize that isn't an everyday ingredient.
Farro, Chanterelles, Apples, Apples, Apples
Serves 4
Vegetarian; not vegan or gluten-free
2 cups farro (whole or semi-pearled)
5 cups water
2 teaspoons Kosher salt
1 tablespoon caraway seeds
12 tablespoons (1.5 sticks) unsalted butter (8 tablespoons cut into 16 pats)
4 generous handfuls chanterelle mushrooms, cleaned, dried, and quartered
1/4 cup Calvados
2 apples (Kings are nice), peeled and cut into medium dice (this will leave lots of odd shaped scraps which you can nosh on)
1/3 cup Acetoria apple vinegar (not regular apple cider vinegar!)
fresh chives, minced
sea salt (Maldon (aka the world's greatest salt)!)
Rinse and boil the farro according to package directions. If no directions, bring to a simmer in a covered pot with the water and Kosher salt, then reduce to a simmer and cook about 45 minutes until tender. If the farro is semi-pearled, it may cook a lot faster than that. Don't let it get mushy, we want a bit of a bite left.
Put a large skillet over medium heat. Toast the caraway seeds for 15 seconds, then stir them into the farro. Keep the farro warm.
Raise the heat on the skillet to medium high. Melt 2 tablespoons of the butter. Saute the apples, turning occasionally until nicely browned and tender. Season lightly with sea salt and remove from the pan.
Don't clean the pan. Melt 2 more tablespoons of butter and saute the chanterelle mushrooms and a good bit of salt. Cook, turning occasionally until nicely browned and tender. Remove from the heat and add the Calvados. Stir. Return to the heat and carefully saute for 1 more minute – there is a chance the alcohol will flame up so be prepared and careful. Please skip this step and omit the Calvados if you don't feel comfortable with the risk.

Remove the chanterelles from the pan. Reduce heat to medium. Add the apple vinegar and reduce for just a few seconds, it is already quite thick. Add the pats of butter one at a time, whisking constantly to emulsify. (Like a normal beurre blanc technique). Remove from heat, taste and add salt as needed.
To serve, place a ring mold in the center of a plate. Fill with one cup of cooked farro. Top with chanterelles. Spread 1/4 of the sauce on the plate. Sprinkle the sauteed apples around the sauce. Top the mushrooms with the minced chives. Sprinkle a bit of sea salt over the whole dish and enjoy. (See picture below for plating. Someday I'll learn how to get sauce down all pretty like.)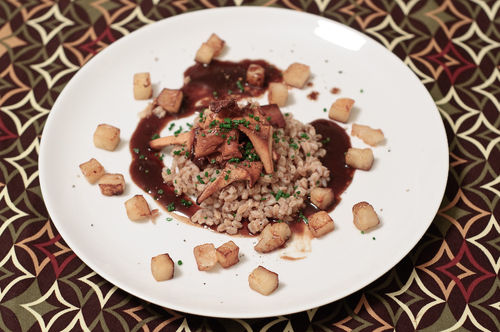 never miss a recipe
Join over 154,000 monthly readers! Subscribe to the free Herbivoracious email newsletter.