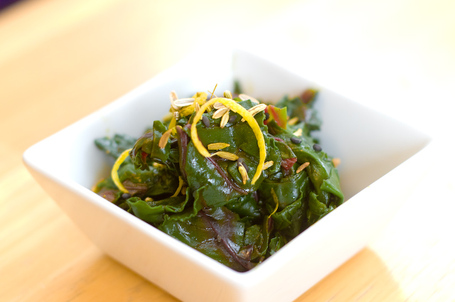 Recipe: Beet Recipe: Greens with Pumpkin Seed Oil and Cherry Vinegar
Devra Gartenstein over at the Quirky Gourmet got me thinking about how many good odds and ends of produce I waste with this article about how she uses chard stems. I was boiling beets for a salad tonight, and resolved for once not to toss the greens. Now I adore beet greens (and every other kind of leafy green), but usually I just have a handful and they don't seem to fit into what I'm making, so they end up in the trash or compost.
But today I was feeling a little snacky anyhow, so while I was boiling the beets, I quickly stripped the greens, rinsed 'em, and tossed them in the boiling water too. Five minutes later I pulled them out, gave 'em a quick chop, and dressed them with:
(this recipe is vegetarian, vegan, and gluten-free)
pumpkinseed oil
cherry vinegar
Maldon (aka the world's greatest salt) salt
quick-toasted fennel seeds
a few strips of lemon zest
Man that was good! It would make a perfect side dish anywhere you might conventionally think to serve spinach or kale. This is one of those dishes that mainly comes together by using those nice ingredients, more than any real skill of the chef. Speaking of which, over at ChefShop.com they have a listing of my "Herbivoracious pantry". The Maldon (aka the world's greatest salt) is in there, and the oil and vinegar will be there soon. (This isn't an affiliate deal for me, I just like what they have to offer.)
never miss a recipe
Join over 154,000 monthly readers! Subscribe to the free Herbivoracious email newsletter.