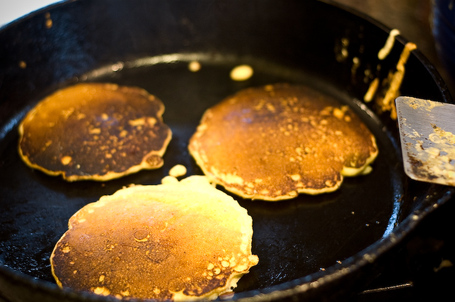 Cornmeal Pancakes From Joy of Cooking
Friday night, put in a good day of work at Cafe Flora. When I got home around 9, Sarina hadn't really eaten dinner and was in the mood for pasta. You know you love to cook when that sounds like good fun! I made her a spicy angel hair pasta with breadcrumbs that comes together in about the time it takes the water to boil (recipe below).
If a friend asks you for an easy and flavorful vegetarian dish, this would be a good one to recommend. You've got the heat of the chili flakes, the pungent garlic, crunch from the breadcrumbs, a little acid from the lemon, and a bit of saltiness. Just don't overcook the pasta.
Then this morning, Mini-Me wanted pancakes, and we decided they should be corn pancakes, from the Joy of Cooking. Picture above. Yep, I like mine a little burned. She ate almost of 5 of them, and she's only 2.5 years old.
Sometimes it just doesn't need to be any more complicated than these simple, delicious things.
By the way, have you checked the expiration date on your baking powder and baking soda recently?  I recently replaced some that was out of date and boy are things rising better now!
Here's the Angel Hair recipe:
Spicy Angel Hair Pasta
(For 1, but easy to multiply)
Vegetarian, and vegan if you omit the parmesan

1/4 lb angel hair pasta
1 slice country bread
olive oil
2 large cloves of garlic, minced
1 tsp. chili flakes (or to taste)
butter
lemon
parmesan (reggiano), grated
sea salt
pepper
parsley
Start boiling a pot of salted water
Toast bread until quite dark, cool a bit, then chop with a knife (or food process or whatever, but I like kinda coarse breadcrumbs for this)
When the water boils, heat a big frying pan or skillet over medium flame
Drop the pasta
Put a good amount olive oil in the skillet, and add the garlic and chili flakes
After a minute or two, add the breadcrumbs and stir occasionally
When the pasta is al dente (probably 4 minutes for angel hair), drain it well and add right to the skillet
Add a good nub of butter, a handful of parm, a squeeze of lemon, salt and pepper to taste, and quickly toss a few times with tongs. Taste and adjust, quickly.
Serve piping hot in big bowls, garnished with a generous amount of more parm, a few more grains of sea salt, fresh ground pepper, and parsley
never miss a recipe
Join over 154,000 monthly readers! Subscribe to the free Herbivoracious email newsletter.