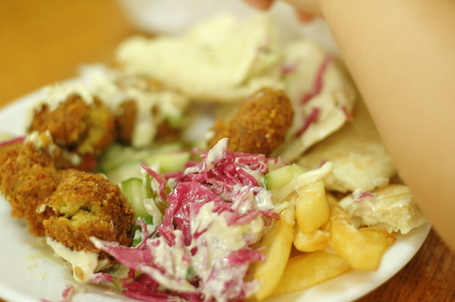 This was our first falafel in Jerusalem. Of course it came in a sandwich, but we took one apart to give to Mini-Me, and that makes for a more descriptive picture than the whole sandwich. Falafel over here is so much better than you normally find in America. The falafel itself is always fried to order, not sitting around, and it is served with several kinds of pickled vegetables and salads, and often a few french fries. The crisp falafel, vinegary pickles, creamy tahini, spicy harissa and super-fresh pita combine to make something so perfect I could eat it every day. I have failed you as a correspondent and didn't write down the name of the restaurant, but it was on the Cardo (main street) in the Jewish Quarter of the Old City, a little south from where you come up from the Western Wall of the Temple.
P.S. if any of you want to keep up with the family stories of our trip, check out Snacky Pants' Blog.
never miss a recipe
Join over 154,000 monthly readers! Subscribe to the free Herbivoracious email newsletter.