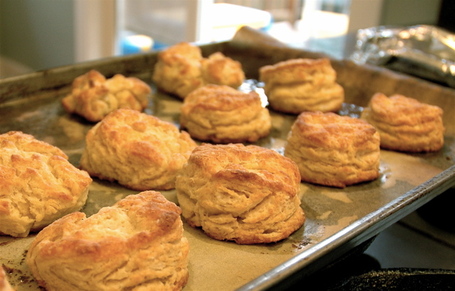 You've got your tender biscuit people and your flaky biscuit people. I'm most definitely a flaky guy. Wait a minute, that doesn't sound right. Anyhow, there was an unbelievable biscuit recipe in the May 2007 issue (#85) of Fine Cooking magazine. I don't want to reproduce their recipe here since it is copyrighted, but I can tell you how it differs from your standard buttermilk biscuits. The basic thing is that you don't blend the butter into the flour. You simply cut it into small cubes, maybe 1/4" on a side, and toss them in to separate. And when you roll them out, you fold the dough into thirds and reroll three times to create a lot of layers. You absolutely have to bake them on a cookie sheet with a rim and parchment! They leak a little butter and I can tell you from previous experience that if you skip the rim, you might have an oven fire. Mini-me thought that was cool. The friends came for breakfast and we had the biscuits with baked eggs (filled with potato cubes, braised greens and Appenzeller cheese), u-pick-em blackberries and a green salad.
Update: Fine Cooking published the Flaky Biscuit Recipe on their website. Be sure and follow the directions closely to get the best results.
never miss a recipe
Join over 154,000 monthly readers! Subscribe to the free Herbivoracious email newsletter.